Fat Transfer Breast Augmentation
Conveniently located to serve the areas of San Diego, CA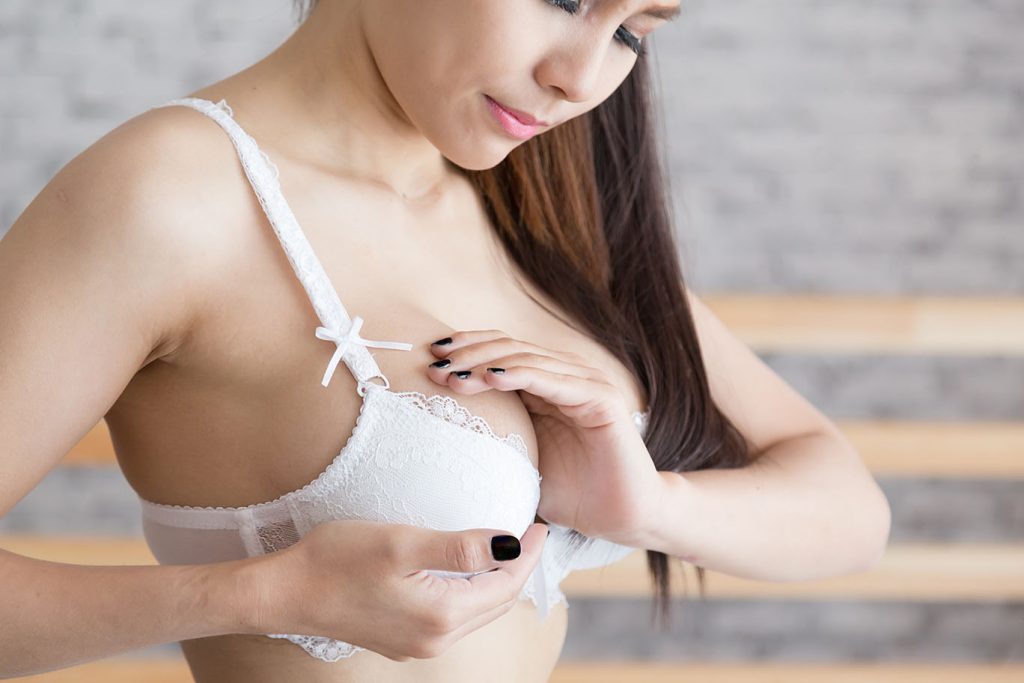 A fat transfer breast augmentation is a surgical procedure where fat is taken from another area of the body with the use of liposuction and placed into the breasts to increase their size and contour. It is a more natural option for patients who do not want implants. 
Women often have excess fat stored on various parts of the body, and this procedure allows those fat cells to be redistributed for a more aesthetically pleasing silhouette. Renowned plastic surgeons Dr. John T. Alexander II and Dr. Jordan Kaplan of Alexander Cosmetic Surgery offer their expertise and services in beautiful San Diego, California. 
Schedule a consultation or call (858) 455-7557 to learn all there is to know about fat transfer breast augmentation.
Before and After Photos
About Fat Transfer Breast Augmentation
Fat transfer to the breasts is a less common, but effective way to increase the size of the breasts. Fat is usually extracted from the back, abdomen, hips, thighs, or arms to create a slimmer contour. This procedure achieves less dramatic results than traditional implants, but can be perfect for women that have always wanted to increase the size of their breasts, but do not want to utilize implants to do so. (1)
Autologous Fat Transplantation
Autologous fat is tissue from the patient's body. There is very little chance of rejection, since it is not a foreign element like silicone or saline implants. To extract fat from the body, the surgeon inserts a cannula (thin tube) through small incisions near the harvesting area.
Benefits of Fat Transfer Breast Augmentation
There are many benefits to undergoing a fat transfer breast augmentation. Here are just a few examples:
A modest and extremely natural enhancement of the breasts
Includes body contouring from the fat harvesting
No chance of Breast Implant Illness (BII) or other related side effects
Great option for patients removing their previous placed breast implants and wanting to restore moderate volume with or without a breast lift
Candidates for Fat Transfer Breast Augmentation
Women who have excess fat stored in the abdomen or thighs who have experienced long term dissatisfaction with their breast size may be good candidates for this procedure. They are patients seeking a more natural alternative to breast implants and may want to forego the maintenance surgeries necessary for implant-based augmentation. They should also be in overall good health with no pre-existing serious health conditions, and should understand the scope of the procedure itself.
Personal Consultation at Alexander Cosmetic Surgery
At a private consultation with Dr. Alexander or Dr. Kaplan you will discuss the procedure details and how the entire process will work. They will take care to explain each stage of your treatment plan, from the preparatory steps to the healing plan.
It is important to describe exactly your expectations for breast size during this appointment. Dr. Alexander and Dr. Kaplan will use their years of experience to determine the right strategies to help you reach your aesthetic goal.
Preparation
To prepare for your procedure, follow these guidelines:
Do not use tobacco products
Stop all use of NSAIDs like ibuprofen and aspirin and other blood thinning medications
Limit your alcohol consumption
Fast after midnight the evening before the procedure date
Follow all other pre-operative instructions from your surgeon
Ask a trusted person to drive you to and from the procedure
Procedure Details
Fat transfer breast augmentation procedures are separated into three parts to allow for the harvesting of fat, the cleaning of the tissue, and its reintroduction to the breasts. You will be under general anesthesia for this procedure to assure your comfortability.
Fat Harvesting
The first step of the procedure is liposuction. Dr. Alexander or Dr. Kaplan will use a cannula on a gentle setting to break up the fat and separate it from other tissues within the abdomen, thighs, or back. The surgeon moves the cannula throughout the donor area through small incisions. He will make sure to even out the designated areas with the liposuction to both gain enough usable tissue and to create an even, appealing body contour.
Fat Processing
The second step requires a device that separates the healthy and usable fat cells harvested during liposuction from the blood and debris that is extracted with it. Usually done by centrifugation, the fat solution spins at a high speed to separate it from the other elements that have different densities. After the fat cells have been cleaned, they are ready to be transferred.
Application of Fat Cells
With a long, slim needle, the surgeon then injects the fat into the breast with swift and even strokes. The fat spreads over the pectoral muscle, naturally filling the breasts for a fuller contour and soft shape.
The incisions made during this procedure are commonly small enough for just 2 or 3 sutures, so the surgeon then stitches them. The entire procedure usually takes 3 to 4 hours to complete. (2)
Recovery
You must follow any recovery instructions that Dr. Alexander or Dr. Kaplan give you after your procedure. Fat transfer breast augmentation is an outpatient procedure, so you will avoid staying overnight. The total recovery time for a fat transfer breast augmentation is around 6 weeks for most patients.
You will experience some soreness around the liposuction areas and your breasts, but this should subside quickly within the first week of your recovery. Your incision sites will be small and will heal quickly, usually within a couple of days. You will be able to go back to regular activities in a couple of weeks, remembering to avoid manipulation of the breast tissue to preserve as much of the transferred fat as possible. You may need to wear a surgical bra to get the best results.
Results of Fat Transfer Breast Augmentation
Immediately after the procedure, you will be able to see results. As your swelling decreases, the size of your breasts will decrease. About 6 months after your procedure date, your breasts will be pretty close to their new size, and as the nonviable fat cells become absorbed into the body, the tissue settles into the final breast shape. After a year, you will be able to see the extent of the surgery and your long-term results. It's important to remember that weight fluctuation is a big factor in whether your results will last, so regular exercise and a healthy, nutritious diet can aid in maintaining your newly-contoured and shapely results.
Complementary Procedures
For more projection of the breast as well as a size increase, patients could very easily combine a fat transfer breast augmentation procedure with a breast lift. Often referred to as mastopexy, this procedure is perfect for patients that experience ptosis (sagging) of the breast tissue and skin after a pregnancy or major weight loss. 
Sometimes performed during implant-based breast augmentation, this procedure includes removing skin and tissue from the lower breast, below the nipple, and suturing the area up higher on the chest wall to lift and enhance the shape of the breast..
Cost of Fat Transfer Breast Augmentation in San Diego
The cost of a fat transfer breast procedure is completely dependent on the treatment plan of the individual patient. Some factors that affect price are the initial consultation and any postoperative follow ups, the amount of liposuction performed, and operating room time. For more in-depth information concerning fat transfer breast augmentation, please contact Alexander Cosmetic Surgery by calling (858) 455-7557 or you may schedule your consultation with ease online.
FAQ
Can fat transfer breast augmentation bring my breasts up a whole cup size?
Yes! Depending on the amount of fat that is able to be harvested and the capacity of your existing breasts, it is possible for the right patient to gain a cup size.
How long do the results of fat transfer breast augmentation last?
One of the advantages of fat transfer breast augmentation is that the results can be long-lasting. Since the transferred fat becomes a permanent part of the breast tissue, the volume enhancement achieved through this procedure can be maintained over time. However, it's important to note that weight fluctuations and aging can still affect the appearance of the breasts, so maintaining a stable weight and following a healthy lifestyle can help preserve the results.
Can fat transfer breast augmentation be combined with other procedures?
Yes! Fat transfer breast augmentation can be combined with other procedures to achieve comprehensive rejuvenation and enhancement. Commonly, patients choose to combine this procedure with a breast lift to address sagging or drooping breasts. The possibility of combining treatments will be discussed during your personalized consultation, where the surgeon will assess your individual needs and goals.
References
Fat Transfer Breast Augmentation. American Society of Plastic Surgeons. Accessed October 17, 2023. https://www.plasticsurgery.org/cosmetic-procedures/fat-transfer-breast-augmentation
Davis MJ, Perdanasari AT, Abu-Ghname A, et al. Application of Fat Grafting in Cosmetic Breast Surgery. Seminars in Plastic Surgery. 2020;34(01):024-029. doi:https://doi.org/10.1055/s-0039-1700958