Gynecomastia
Conveniently located to serve the areas of San Diego, CA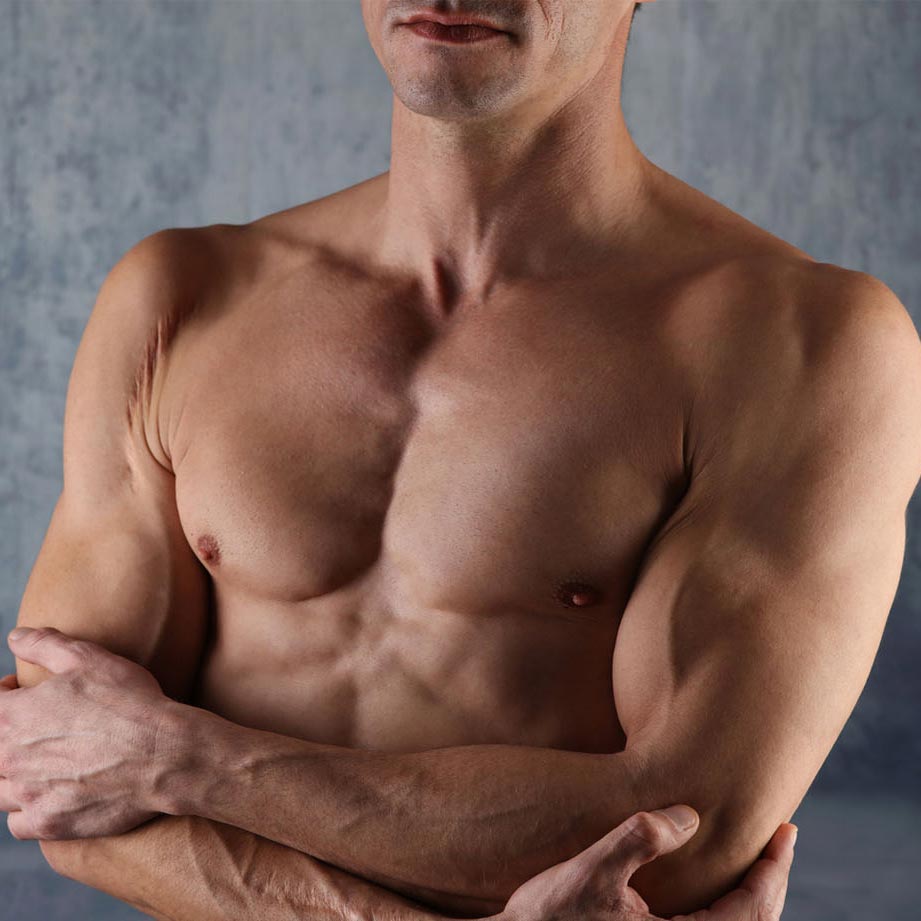 The goal of gynecomastia treatment, also known as male breast reduction, is to reduce breast size in men who are embarrassed by overly large breasts. Reduction methods include liposuction, cutting out excess glandular tissue or using a combination of liposuction and excision. Dr. Alexander and Dr. Kaplan can effectively and safely improve or correct your concerns.
For more information about our San Diego Gynecomastia procedure, please contact us online or call us at 888-463-9532. We look forward to helping you look your best.
Understanding the San Diego Gynecomastia Procedure
When to Consider Gynecomastia Treatment
If you are reluctant to remove your shirt in public, to swim, to participate in sports or to exercise at a gym.
If you want to improve your overall body proportions.
If you experience psychological discomfort associated with large breasts.
If you want to increase your social confidence.
Before You Decide…
The Consultation
To ensure the most natural-looking results, it's imperative for a surgeon to recommend the procedure that most appropriately matches your needs and offer realistic expectations for post-surgery outcomes. When you meet with a surgeon, you should expect a full discussion of the surgically appropriate options for your gynecomastia procedure.
A good surgeon will go through a series of examinations and observations that are individual and dependent upon your specific situation and goals. Also factored into this process are the doctor's expertise, training, and experience. If a surgeon specializes in a particular type of procedure, don't be surprised if it is recommended over other options. Be wary of the "one-size-fits-all" approach.
This is particularly important because, as medicine continues to advance, patients have more options made available to them.
The success of your procedure depends very much on your complete candidness during your consultation. We will ask you questions about your health, desires, and lifestyle.
Be prepared to discuss:
Why you want the surgery, your expectations, and desired outcome
The options available to you for gynecomastia surgery
Medical conditions, drug allergies, and medical treatments
Use of current medications, vitamins, herbal supplements, alcohol, tobacco, and drugs
Previous surgeries
We may also:
Examine and measure your chest.
Take digital photographs for computer imaging
Discuss your options and recommend a course of treatment
Discuss likely outcomes of the procedure and any risks or potential complications
Discuss the anesthesia options available
Questions to Ask
Were you trained specifically in the field of plastic surgery?
How many years of plastic surgery training have you had?
Do you have hospital privileges to perform this procedure?
Is the office-based surgical facility accredited by a nationally- or state recognized accrediting agency?
What procedure is recommended for me?
Am I a good candidate for this procedure?
How many procedures of this type have you performed?
Where and how will you perform my procedure?
What surgical technique is recommended for me?
How long of a recovery period can I expect, and what kind of help will I need during my recovery?
What are the risks and complications associated with my procedure?
How are complications handled?
What are my options if I am dissatisfied with the cosmetic outcome of my cheek surgery?
Do you have before-and-after photos I can look at for this procedure and what results are reasonable for me?
Who is a good candidate?
The following are some common reasons why you may want to consider gynecomastia treatment:
You are unhappy with the size or appearance of your breasts.
You experience physical discomfort because of your breasts.
You have good skin elasticity. Successful gynecomastia surgery involves adequate skin contraction after your excess skin is surgically removed. Your skin may lack the necessary elasticity for good contraction if you are age fifty or older, have significant sun damage, have breasts with a lot of stretch marks or have undergone gastric bypass surgery.
You have first tried diet and exercise to reduce your breast size.
You are not significantly overweight. Although surgery will help this patient population, the results will not be as good. For this reason, you should try to get within thirty to forty pounds of your ideal body weight before surgery.
You do not use marijuana, steroids or drink alcoholic beverages excessively (it is theorized that these substances may cause gynecomastia).
If you are in good general health, have a positive attitude and realistic expectations, you are most likely a good candidate for this procedure.
What does it cost?
A quote will be provided to you after your consult with Dr. Alexander and Dr. Kaplan. Cost is always a consideration in elective surgery, but remember that the surgeon's experience and your comfort with him or her are just as important as the final cost of the surgery. We offer patient financing plans, so be sure to ask.
Costs include:
Surgeon's fee
Operating Room and Supplies
Anesthesia fees
Prescriptions for medication
Post-surgery garments, and
Medical tests
To learn more about our partner in payment plans, please visit CareCredit.
The Gynecomastia Procedure
Prior to surgery, we will have you:
Take certain medications or adjust your current medications
Avoid taking aspirin, anti-inflammatory drugs and herbal supplements as they can increase bleeding
Stop smoking well in advance of surgery
During a preoperative appointment, usually 1-2 weeks before surgery, we will:
Get lab testing or a medical evaluation
Tell you what to do on the night before and morning of surgery
Discuss the use of anesthesia during your procedure
Explain post-operative care and follow-up, and what help you will need after the procedure
Anesthesia
Medications are administered for your comfort during the surgical procedure. The choices include intravenous sedation and general anesthesia. We will recommend the best choice for you based on your personality, your desires, and the complexity of your procedure.
How We Do It
The goal of gynecomastia surgery is to restore a normal male breast contour and to correct deformities of the breast, nipple or areola. Surgical options include liposuction, excision (surgical removal of tissue) or a combination of both approaches. Glandular breast tissue is denser than fatty tissue and is not appropriate for liposuction.
The choice of surgical technique depends on the likelihood of skin redundancy after surgery. Skin shrinkage is greater in younger than older patients.
The most common approach is the intra-areolar incision, which extends along the circumference of the bottom half of the areola in the pigmented portion.
The length of your incision will be based on your anatomy.
In severe gynecomastia, skin resection (surgical removal of part of an organ or structure) and moving the nipple (nipple transposition) may be necessary.
Liposuction has improved the results of gynecomastia correction. In liposuction-assisted breast reduction, there is less compromise of blood supply, nipple distortion and areola slough. In addition, postoperative complications are fewer with this technique than with open surgical resection; however, liposuction-assisted breast reduction is not effective for correcting glandular gynecomastia. The fatty and glandular components of your breast must be assessed before surgery. Few patients can be sufficiently treated with liposuction only.
What will my gynecomastia incisions and scars be like?
Scars resulting from gynecomastia surgery vary, depending on the amount of breast tissue you have and the elasticity of your skin. Even those who have larger breasts and tend to get larger scars are usually quite satisfied with the results.
If you have small breasts that are only fat, then your scars will be tiny (just large enough to admit a liposuction cannula).
If you have large female-like breasts, then the scars may extend across each side of your chest, but your surgeon will attempt to hide them in a crease.
With firm breast tissue, there is usually a scar under the areola.
If the areolas are large and need reduction also, then the scar goes all the way around the areola.
Informed Consent
Pain from the nose surgery is usually minimal. Pain pills are provided, but are usually not required after a couple of days. Significant pain is extremely rare and may be the sign of a serious complication, so your physician should be notified.
The decision to have nose surgery is extremely personal and you'll have to decide if the benefits will achieve your goals and if the risks and potential complications are acceptable. Your plastic surgeon and/or staff will explain in detail the risks associated with surgery.
We will explain in detail the risks associated with surgery. You will be asked to sign consent forms to ensure that you fully understand the procedure you will undergo and any risks and potential complications.
The risks include:
Nose asymmetry
Rupture of small surface vessels of the nose
Infection
Poor wound healing
Bleeding (hematoma)
Change in skin sensation (numbness)
Nasal airway alterations may occur after a rhinoplasty or septoplasty that may interfere with normal passage of air through the nose
Nasal septal perforation (a hole in the nasal septum) may develop but is rare; this is usually associated with septal surgery only
Pain, which may persist
Unfavorable scarring
Skin contour irregularities
Skin discoloration and swelling
Possibility of revisional surgery
Anesthesia risks
Important Terms to Know
Anesthesia—General: The patient is asleep, requiring that the airway be protected, either by a standard breathing tube, or by a laryngeal mask (LMA), an inflatable mask that goes in the back of the throat but doesn't go down the trachea. Through the airway, an anesthesiologist gives gases to put the patient asleep. Drugs may also be given through the IV.
Anesthesia—Local: The surgical area is numbed up with an injection, but the patient is awake. Sometimes a patient will be given an oral medication, like Valium, to help with relaxation.
Anesthesia— Sedation (Twilight): The patient is made sleepy with medications given through an IV. The level of sedation can be adjusted, from barely sleepy to very sleepy. Sometimes sedation is given by the surgeon, but most of the time it is administered by an M.D. anesthesiologist.
Cartilage: Connective tissue that forms the structure of the nose.
Columella: The narrow strip of tissue that separates the nostrils.
Deviated septum: Cartilage that separates the nostrils is misaligned which may cause partial nasal airway obstruction.
Hematoma: Blood pooling beneath the skin.
Rhinoplasty: Surgery to reshape the nose.
Recovery
Be sure to arrange for someone to drive you to and from surgery and to stay with you for at least the first night following surgery. If you experience shortness of breath, chest pains, or unusual heart beats, call Dr. Alexander and Dr. Kaplan immediately.
You will be given specific instructions that include:
How to care for the surgical site
Medications to apply or take orally to aid healing and reduce the potential for infection
Specific concerns to look for at the surgical site or in overall health
When to return to the office
The Specifics
Generally, you can expect to be bandaged, wearing a compression garment, and you may have a surgical drain.
The first three postoperative days are critical in your recovery. You must be at full rest at home, but not necessarily in bed; sitting and watching TV or having meals in the kitchen or living room is permissible.
Movements of the waist and elbow are acceptable, but you should curtail vigorous shoulder movement for the first few days. Lateral arm movements are generally permitted but do not lift your arms up vertically. There are many variables; consult your plastic surgeon for more details.
Recovery time after surgery for gynecomastia depends on how severe your condition is and what was performed for you. The average patient, treated with a combination of liposuction and breast gland tissue excision, will likely be back to work after a week. Gynecomastia surgery usually has a relatively gentle recovery period.
It is important that you follow all patient care instructions provided by your surgeon. This will include information about wearing compression garments, care of your drains, taking an antibiotic if prescribed and the level and type of activity that is safe. Your surgeon will also provide detailed instructions about the normal symptoms you will experience and any potential signs of complications. It is important to realize that the amount of time it takes for recovery varies greatly among individuals.
Results
Gynecomastia surgical results are permanent, assuming your weight is stable. If your condition arose from the use of medication or anabolic steroids, further use could lead to recurrence.
The practice of medicine and surgery is not an exact science. Although good results are expected, there is no guarantee. Small revisions are occasionally necessary. In general, our patients are very pleased with their gynecomastia procedure. Our goal is to provide a result that is pleasing, balanced, and in proportion with your other facial features and your ethnicity. Others should not be able to tell you have had surgery.