Tummy Tuck
Conveniently located to serve the areas of San Diego, CA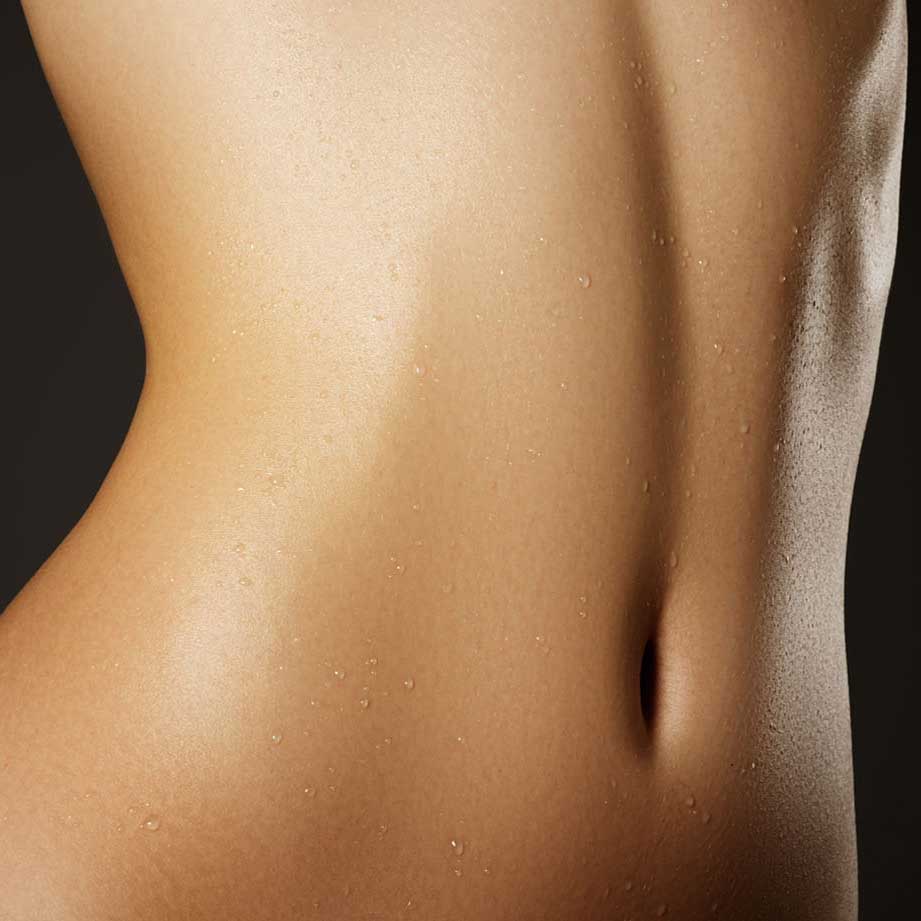 Also known as abdominoplasty, a tummy tuck removes excess fat and skin, and in most cases restores weakened or separated muscles creating an abdominal profile that is smoother and firmer. Out of all the procedures we perform at Alexander Cosmetic Surgery, the tummy tuck is one of the most gratifying for both the patient and surgeon, because it provides such a drastic change is such a quick time.
For more information about our tummy tuck procedure, please contact us online or call us at 888-463-9532. We look forward to helping you look your best.
Before and After Photos
Understanding the Tummy Tuck Procedure
A flat and well-toned abdomen is something many of us strive for through exercise and weight control. When there is extra skin in the abdominal area, no amount of exercise or weight loss can get rid of the skin. Even individuals with normal body weight and proportion can develop an abdomen that protrudes or with skin that is loose and sagging.
The most common causes of this include:
Pregnancy
Aging
Significant weight loss
Heredity
Prior surgery
A tummy tuck is not a substitute for weight loss or an appropriate exercise program. Although the results of a tummy tuck are technically permanent, the positive outcome can be greatly diminished by significant fluctuations in your weight. For this reason, individuals who are planning substantial weight loss or women who may be considering future pregnancies should probably postpone a tummy tuck.
Also, a tummy tuck cannot correct stretch marks, although the majority may be removed if they are located on the areas of excess skin that will be excised, generally those areas below the belly button.
Before You Decide…
Choosing Your Surgeon
There are several important factors to choosing a surgeon, including recommendations from friends, personality, physician training and board certification, and experience.
Referral from Friends: Many prospective patients find confidence if they have a close friend or other trusted individual who has already undergone a successful procedure. This is often a good first step in making a decision. However, not all patients know someone who has had surgery. Most of our patients are referred by satisfied friends who have been our patients.
Personality: It is important to develop a good relationship with a surgeon, where communication is easy and trust can be developed. A patient needs to feel intuitively that they are in good hands with someone they can trust. Bedside manner is important.
Training and Certification: In years past, only plastic surgeons performed abdominoplasty. However, in recent years doctors from many different specialties are more commonly performing cosmetic surgery procedures, including ear, nose, and throat doctors (also known as otolaryngologists and facial plastic surgeons), dermatologists, ophthalmologists, and gynecologists. However, a surgeon who has been certified by the American Board of Plastic Surgery has received the most extensive training in cosmetic surgery. There are many boards, and it is easy for patients to become confused or assume that when a doctor says they are "board certified," it all means the same thing. BE CAREFUL!
Experience: Finally, consider the physician's experience, the most important factor in making a decision. As with all professions, expertise is directly proportional to experience, meaning the total number of procedures performed. Medical literature illustrates that biggest predictor of success in surgery is volume, in other words, the number of times that a doctor has performed a procedure.
If the doctor is recommending a specific procedure, how many has he performed? How often does the surgeon perform this procedure?
While board certifications and training are important, a surgeon's experience with the procedure itself is more important. Don't hesitate to ask pointed questions about recommended procedures.
The Consultation
To ensure the most natural looking results, Dr. Alexander will recommend the procedure that most appropriately matches your needs and to offer realistic expectations for post-surgery outcomes. Often patients present requesting liposuction because they have extra tissue present on the abdomen that they can grab and assume it is extra fat. Most often this extra tissue represents excess skin, usually from pregnancy or weight loss. Sometimes, liposuction isn't the answer, and the only way to alleviate this condition is to perform a tummy tuck.
The success and safety of your tummy tuck procedure depends very much on your complete candidness during your consultation. You'll be asked a number of questions about your health, desires and lifestyle.
Be prepared to discuss:
Why you want the surgery, your expectations and desired outcome
Medical conditions, drug allergies and medical treatments
Use of current medications, vitamins, herbal supplements, alcohol, tobacco and drugs
Previous surgeries
We may also:
Evaluate your general health status and any pre-existing health conditions or risk factors
Examine your abdomen
Take photographs for your medical record
Take photographs for your medical record or insurance company
Discuss your options and recommend a course of treatment
Discuss likely outcomes of breast augmentation surgery and any risks or potential complications
Discuss the anesthesia options available
Questions to Ask
Are you certified by the American Board of Plastic Surgery?
Were you specifically trained in the field of plastic surgery?
How many years of plastic surgery training have you had?
Do you have hospital privileges to perform this procedure?
If so, at which hospitals?
Is the office-based surgical facility accredited by a nationally or state-recognized accrediting agency?
Am I a good candidate for this procedure?
What will be expected of me to get the best results?
Where and how will you perform my procedure?
What surgical technique is recommended for me?
How long of a recovery period can I expect, and what kind of help will I need during my recovery?
What are the risks and complications associated with my procedure?
How are complications handled?
How can I expect my stomach to look over time?
How can I expect my stomach to look after pregnancy?
What are my options if I am dissatisfied with the cosmetic outcome of my tummy tuck?
Do you have before-and-after photos I can look at for this procedure and what results are reasonable for me?
Who is a good candidate?
Abdominoplasty is a good option for you if:
You are physically healthy and at a stable weight
You have realistic expectations
You are a non-smoker
You are bothered because your tummy is too large or the skin is excessive and loose
What does it cost?
Cost is always a consideration in elective surgery. When choosing a plastic surgeon for a tummy tuck, remember that the surgeon's experience and your comfort are just as important as the final cost of the surgery.
Costs may include:
Surgeon's fee
Operating room and supplies
Anesthesia fees
Prescriptions for medication
Medical tests
A quote will be provided to you after your consult with Dr. Alexander. Cost is always a consideration in elective surgery. We offer patient financing plans, so be sure to ask.
To learn more about our partner in payment plans, please visit CareCredit.
The Tummy Tuck (Abdominoplasty) Procedure
Prior to surgery, we will have you:
Take certain medications or adjust your current medications
Avoid taking aspirin, anti-inflammatory drugs and herbal supplements as they can increase bleeding
Stop smoking well in advance of surgery
During a preoperative appointment, usually 1-2 weeks before surgery, we will:
Get lab testing or a medical evaluation
Tell you what to do on the night before and morning of surgery
Discuss the use of anesthesia during your procedure
Explain post-operative care and follow-up, and what help you will need after the procedure
Anesthesia
Medications are administered for your comfort during the surgical procedure. An anesthesiologist will administer general anesthesia, which is recommended for this procedure. Smaller tucks or revisions can be done with IV sedation.
How We Do It
The procedure typically takes 2-3 hours depending on the individual and certain surgical variables.
There are seven basic steps to a tummy tuck:
Step 1 – Marking
The abdomen is carefully marked by Dr. Alexander with the patient in a standing position.
Step 2 – The incision
A full tummy tuck requires a horizontally-oriented incision just below the pubic hairline. The shape and length of the incision will be determined by the degree of correction necessary. The incision can be essentially straight or curved depending on patient preference.
Step 3 – Loosening skin
The skin and fat above the incision are loosened from the abdominal wall all the way up to the rib cage. This requires releasing the bellybutton with a heart-shaped incision around the belly button. The belly button stays in its normal position underneath the loosened skin.
Step 4 – Muscle repair and tightening
The vertical bands of the abdominal muscles are often separated because of pregnancy. These muscles are re-approximated and tightened with suture, running from the upper abdomen all the way down to the pubic bone, creating a tight and reinforced abdominal wall. This step creates more postoperative pain, but is easily justified by the final result. When there is no muscle wall looseness, this step is not required.
Step 5 – Removing excess skin
The loosened skin is pulled down, like a window shade, and all the excess is removed. Often, a drain is left in place for several days. This is because the loosened skin produces a large quantity of serum that if left under the skin will collect and prevent proper healing.
Step 6 – Re-attachment of the belly button
A mark is made on the new skin overlying the belly button, and a chevron-shaped incision is made, through which the belly button is brought up and sutured into place. We have developed specialized techniques to make the belly button as natural appearing as possible, with a superior hood that has no scar and creates a natural fold and shadow on the upper belly button.
Step 7 – Closing the incisions
The skin incisions are closed with dissolvable and removable sutures. A compressive dressing is placed followed by an elastic binder, or girdle.
Informed Consent
Important facts about the safety and risks of tummy tuck surgery
The decision to have a tummy tuck is extremely personal and you'll have to decide if the benefits will achieve your goals and if the risks and potential complications are acceptable. In general, the overall risks are small with this procedure.
Pain from a tummy tuck varies. When no muscle repair is required, main is moderate. If muscle repair is done, pain can be significant for 24-48 hours. Patients are given pain pills to alleviate the discomfort, but usually only need them for several days.
Possible risks of abdominoplasty include:
Unfavorable scarring
Bleeding (hematoma)
Infection
Fluid accumulation
Poor wound healing
Skin Loss
Numbness or other changes in skin sensation
Skin discoloration and/or prolonged swelling
Fatty tissue under the skin might die (fat necrosis)
Asymmetry
Recurrent looseness of skin
Pain, which may persist
Blood clots, cardiac and pulmonary complications
Persistent swelling in the legs
Nerve damage
Possibility of revisional surgery
Suboptimal aesthetic result
Anesthesia risks
Important Terms to Know
Abdominoplasty: A surgical procedure to correct the apron of excess skin hanging over your abdomen.
Anesthesia—General: The patient is asleep, requiring that the airway be protected, either by a standard breathing tube, or by a laryngeal mask (LMA), an inflatable mask that goes in the back of the throat but doesn't go down the trachea. Through the airway, an anesthesiologist gives gases to put the patient asleep. Drugs may also be given through the iv.
Anesthesia—Local: The surgical area is numbed up with an injection, but the patient is awake. Sometimes a patient will be given an oral medication, like Valium, to help with relaxation.
Anesthesia— Sedation (Twilight): The patient is made sleepy with medications given through an iv. The level of sedation can be adjusted, from barely sleepy to very sleepy. Sometimes sedation is given by the surgeon, but most of the time it is administered by an M.D. Anesthesiologist.
Diastasis: Condition in which abdominal muscles are separated
Excision: To remove the skin
Hematoma: Blood pooling beneath the skin
Hypertrophic Scar: a hyperactive, usually temporary scarring process that makes a scar raised and red, sometimes called a "baby keloid." This problem is more common in patients with pigmented complexion and more common on the chest, trunk, and shoulders.
Liposuction: Also called lipoplasty or suction lipectomy, a procedure that vacuums out fat from beneath the skin's surface to reduce fullness.
Sutures: Stitches used by surgeons to hold skin and tissue together
Tummy Tuck: A surgical procedure to correct the apron of excess skin hanging over your abdomen.
Recovery
After your procedure is completed, we will wrap your abdomen with a snug bandage. This may feel increasingly tight during the night because of swelling, but we will loosen it the next day. We will teach you how to care for your incision and drain. Usually you will remain wrapped for 48-72 hours, after which we will remove the wrap. On the third day you will be able to remove all bandages and take a shower. It is important to wear the compressive garment for at least four weeks.
Your abdominoplasty is performed on an outpatient basis, so be sure to arrange for someone to drive you to and from surgery and to stay with you for at least the first night following surgery. Following our instructions is key to the success of your surgery. It is important that the surgical incisions are not subjected to excessive force, abrasion, or motion during the time of healing. If you experience shortness of breath, chest pains, or unusual heartbeats, you should call Dr. Alexander immediately.
The Specifics
A splint will be placed to support the nose and minimize swelling for approximately one week. Anterior packs are placed in each nostril and are removed on the next day. This doesn't hurt. If the septum has been done, deeper packs are placed and left 2-4 days. It is uncomfortable to remove these packs but more weird than painful.
The nose can drip blood and mucous until the packs are removed. You should avoid blowing your nose for 2 weeks after the surgery. The splint is removed at one week. At this time you will get a good look at how the nose is likely to look. By the next day, the nose will swell a little, but this will come down over the next several weeks. While initial swelling subsides within a few weeks, it may take up to a year for your new nasal contour to fully refine.
During this time you may notice gradual changes in the appearance of your nose as it refines to a more permanent outcome. Swelling may come and go and worsen in the morning during the first year following your nose surgery.
Following your doctor's instructions regarding medications and other post-operative measures is key to a quick recovery. Herbal medications are available to reduce swelling, bruising, and to speed your recovery.
It is important that the nose is not subjected to excessive force, abrasion, or motion during the time of healing. Your doctor will give you specific instructions on how to care for yourself.
Results
Your tummy tuck will result in a flatter, firmer abdominal contour that is more proportionate with your body type and weight. The improved shape of the abdomen will be visible immediately, but final results may be initially obscured by swelling and your inability to stand fully upright until internal healing is complete. Within a week or two, you should be standing tall and confident about your new slimmer profile.
Sutures are removed beginning at 3-4 days and finally at 10-14 days. Removable sutures are used to minimize scarring. Absorbable sutures can increase inflammation and increase scarring. Incision lines are permanent, but will continue to fade over time. Regular activity can be resumed at 10-14 days. Light exercise can begin at 3 weeks. Heavy exercise and activity should be postponed for 4-6 weeks.
The results of your tummy tuck will be long lasting. You will find it easier to wear certain styles of clothing and swim suits. Like most women who have had a tummy tuck, you may also have a boost in self-confidence. You'll be able to retain your new look longer if you maintain your weight and keep a healthy lifestyle.
Special note: If you are planning to become pregnant, discuss this with Dr. Alexander. Changes that occur in the abdomen during pregnancy can reverse the improvement a tummy tuck provides. Likewise, plans for significant weight loss should also be discussed.